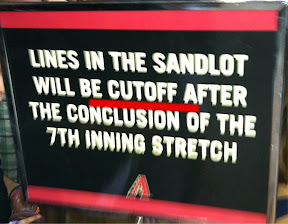 Rewrite Jr. can handle watching only so many throws to the
cutoff
(adj.) man, and Mr. Rewrite can guzzle only so many Miller Genuine Drafts before the beer-sales
cutoff
(n.). So he welcomed the opportunity to let his son blow off steam in
Chase Field's play area
.
The break proved even more beneficial when Mr. Rewrite came away with fodder for a post.
This sign should say that play area access will be
cut off
, not
cutoff
.
The AP Stylebook calls for
cutoff
as the adjective and noun but for
cut off
as the verb. It doesn't address the adverb form (feeling
cut off
, or apart, from something), but trust Mr. Rewrite that that's two words as well.
With the AP Stylebook app for his iPhone, Mr. Rewrite's never
cut off
from this essential reference.